frequently asked questions
.
What May Be Some Key Roof Danger Signals That You Shouldn't Miss?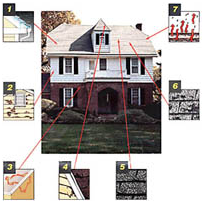 Problem: Leakage in attic after driving rain
Possible cause: Leaky or inadequate shingle underlayment; deteriorated flashing
Problem: Blistering on interior ceilings and walls
Possible cause: Excessive moisture or high humidity due to poor attic ventilation
Problem: Stains on interior ceilings and walls
Possible cause: Inadequate or faulty shingle underlayment allowing leakage from ice dams
Problem: Roof shingle, sheathing, and siding decay
Possible cause: Poor attic ventilation
Problem: Missing, cracked, or curling shingles
Possible cause: Shingles having reached their useful life
Problem: Dark, dirty looking areas on your roof
Possible cause: Environmental pollutants, vegetation, fungus or algae growth, loss of granules due to age of shingles
Problem: Excessive energy costs
Possible cause: Insufficient attic ventilation causes heating/cooling system to run excessively
Why Do You Find Black Stains On My Shingles?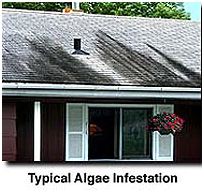 This problem isn't mildew, oil, or dirt. It is a type of algae that shows up as a dark discolouration on your roof. It is found most often where moisture settles on your roof; you can consider using algae-resistant shingles. Gables Roofing would be happy to help you choose the shingles to use.
Why Should I Install New Shingles?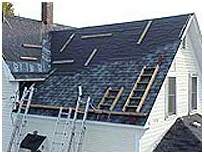 We highly recommend the removal of the old materials if they are worn out. You can find out whether your old shingles need to be replaced or not by allowing our professional to inspect the existing wood deck for any defects. If the old materials are not removed, they will not lay flat without cracking or buckling. And yes, new shingles improve the aesthetic appeal.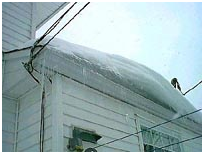 A continuous thaw and refreeze process create ice dams. During the winter when heat from the attic warms the roof or the sun melting snow may cause ice dams. Vapour barriers, insulations, and proper ventilation can help prevent these problems.
Are your roofers certified and insured?
Yes. We only employ fully licensed roofers with further training to exceed industry standards.
Can I receive a quote? Should I schedule my roofing right away?
Yes, please book with us to schedule a quote. Contact us to complete your roofing project as soon as you decide you are going to choose Gables Roofing Ltd in London, Ontario.
How do I know if I need a new roof?
Your roof is probably due for a replacement if your shingles are ripped, curled, or have cracks in them. There may also be evidence of discoloration and granule loss. Gables Roofing Ltd offers expert roofing estimates in London, Ontario, and surrounding areas. Contact us today for a quote on roof repair or roof installation.