Slate roofing is one of the most durable and aesthetically pleasing options available. It can last for decades, with homeowners only needing to replace missing and cracked tiles – but how can they make sure the damage doesn't affect the entire roof? 
Regular slate roofing inspection services can ensure that damage is identified and solved before they become worse. When should you have this inspection performed?
When Should I Have My Slate Roof Inspected?
The best way to maintain your slate roof is to have it inspected every year; the best time for this is in the spring. An annual examination will catch problems early to avoid massive repair bills, and after winter, the roof becomes safer for an inspection. It's also much easier to see issues with no ice or snow!
When a slate roof is damaged, most homeowners won't know what to look for on the surface. They may only know that it needs repair because of a leak in the house. Have a company examine the roof, take photos, and see if the winter weather has done any damage that could turn into further problems.
It's also a good idea to have the tiles examined after a large storm with wind and rain; slate can crack when struck by falling branches and other heavy items. 
What Does A Slate Roofing Inspector Check?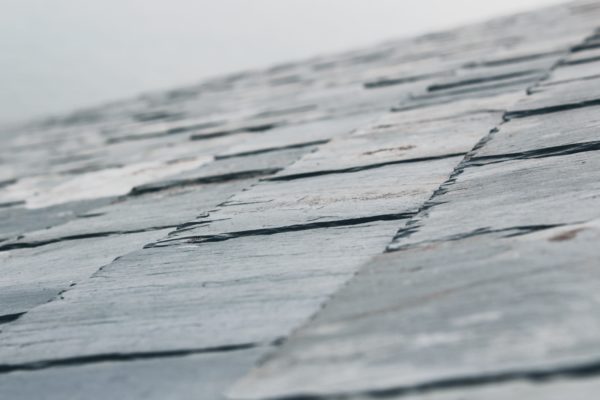 Professionals can see when the stains on your slate tile roof belie other problems, such as thinning materials. Sediment and residue on your tiles are signs that the material is near the end of its life. You can even detect issues in the water flowing out of your gutter – sediments can give the water a rusty colour.
They can also notice hairline cracks on slate tiles, something a homeowner can easily miss. If they see tiles that have hairline cracks compared with others on your roof, it's likely because the slate has become increasingly older.
Roofing inspectors will also look at the flashing, which will be made of metal and won't last as long as slate. If there's damage to the flashing on a slate roof, but the tiles themselves are still in good shape, roofing experts can safely replace the flashing and restore the roof's integrity while protecting your skylight, vents, and the home's interior.
Bring In A Professional To Perform The Slate Roof Inspection
Never perform the inspection yourself. Walking on the slate is a perilous task – the tiles break easily, and you can fall off the roof and get injured – or worse. Professionals can examine the tiles from a ladder leaned against the eaves of the home, taking care to rest it in a way that won't do more damage to the roof.
Staying vigilant about the condition of your roof will keep it looking its best, protect your home's interior, and prevent a costly repair or replacement bill! Schedule a regular appointment with Gables Roofing today.